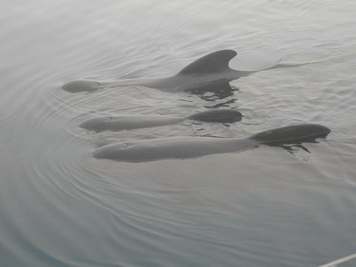 Date - Monday 28th August 2006

Time - 0800 - 0900

Position - 36º 26.5' N 4º 05.6' W

Or approximately 25 miles SE of Fuengirola

My maiden solo voyage from Almerimar en route to Gibraltar. No wind and but I'm looking forward to my first sunrise. Instead I get thick fog and these amazing creatures which I'm told are Pilot Whales. I think you can count 16 in the top picture. Some of the larger ones were above 3m in length

Simply Amazing !!!